All material that is purchased by the library, including books, DVDs and journals, are recorded in the library catalogue so that students can search and find material. The library uses the Dewey Decimal System and is available 24 hours a day.
The collection is also divided into subject areas so that books of the same subject stay together:
BUS = Business
COU = Counselling
DRA = Drama
EDU = Education
MUS = Music
CR = Closed Reserve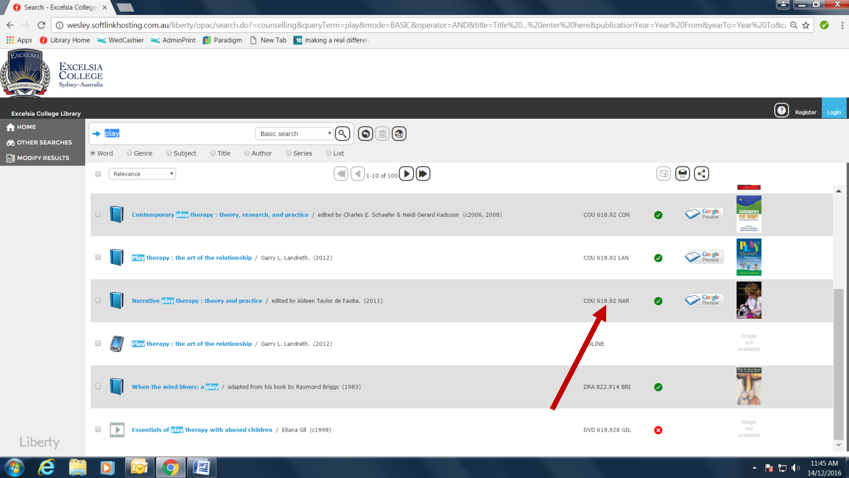 The first arrow points to a counselling book COU 618.92 NAR (this is the call number).  The title is Narrative Play Therapy and COU indicates it is a counselling book.  The blue icon on the right indicates it is a physical book and the green tick indicates that the book is available. You will need to write down the entire call number to find the book on the shelf. A red cross indicates the book is out on loan.
Online indicates that the book is an electronic book.  You can access electronic books through the catalogue by clicking on the title of the book.   
You can search the catalogue in various ways but most people use a basic search.
When you find an item put your mouse on the blue book title - this will give you more information.  For example, you can see that this book is due on 31/12/2016.  You can now decide on whether you want to reserve the book.  You can also ask for the book to be put aside for you.
You can ask for further assistance by emailing the library at library@excelsia.edu.au, or phone us on 9819 8827.  You can also join the library Facebook group which is accessible via the library home page.